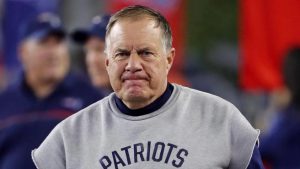 Q: Can you speak to the type of player Devin McCourty has become over the course of his career with his versatility and leadership?
BB: Yeah, Devin does a lot of things, Ben [Volin]. He started off at corner. Really, he's played both safety positions, even though it's more free safety but he's played plenty of, I'd say, strong safety type of assignments. He's strong in the kicking game. He's returned kickoffs for us. He's covered kicks, been the hold-up guy on punt return, so he's really been in all of the units. He gives us a lot of great preparation, leadership, toughness, dependability, a lot of speed on the field. Yeah, he's got a lot of great qualities.
Q: Is selflessness a quality he has shown you?
BB: Yeah, he's great. I mean, you know, he's been a captain practically his whole career, really. He's got great respect from his teammates and does a lot of things for the team, again, both in terms of communication, leadership, sets a great example. He's a very positive influence on the team.
Q: Has there been a big difference in their style of defense since Sean McDermott left as defensive coordinator and has been replaced by Steve Wilks? Is it basically the same style that you've seen them play?
BB: Pretty much. Wilks has been with [Ron] Rivera in three different organizations, so I would imagine that there's a lot of carryover. There's a pretty good understanding between those guys of what they want to do and how they want it done. Yeah, I'd say fundamentally the defense is the same. I'm sure they have probably a couple of tweaks or variations like probably every team has form year to year. We certainly have it. There's something that's a little bit different than it was last year for one reason or another. Overall, it's the same defense.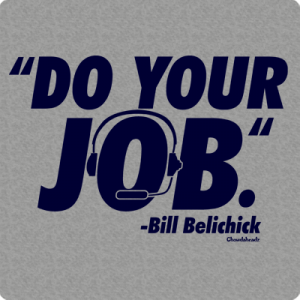 Q: What are some of the hallmarks of that defense?
BB: Four-man line, a lot of zone, blitz-zone. They basically play two fronts. Blitz tendencies have been the same as what they've been. In 2013, the last time we went through it, there's not a lot of changes from what we had in 2013 percentage-wise. That's basically what they want to try to do. [They're] a good fundamental team. They've put a lot into their front seven.
Q: Rob Gronkowski talked a bit about Shaq Thompson and how he can be a sort of hybrid player. Have you seen that from him as well?
BB: Basically, whether they're in nickel or base, it's pretty much the same defense. He and [Captain] Munnerlyn essentially play the same position in the defense. He plays in space. Again, depends on the formation but if you extend the formation he'll play in space, kind of where Munnerlyn would play. They're not a match team so if you have three receivers in the game on first down, you won't necessarily get nickel. They'll put Thompson where Munnerlyn would be and play a lot of the same things they would play with Munnerlyn in there.
Q: Are you amazed that Julius Peppers is still a productive player in the league after all of these years?
BB: Yeah, I mean Julius was a tremendous athlete coming into the league. The guys that come in with that kind of rare ability generally seem to last longer than most others. But he's been very productive for Carolina, then up in the AFC North and then back in Carolina again. They've used him a little bit inside, but he's not only good defensively, he's very good at blocking kicks. He's a great field goal rusher. I don't know how many career blocks he's got – probably a dozen – but it's a lot. He's long, he's very athletic. In some schemes I'm sure he could play linebacker, could play outside linebacker, so you're talking about that kind of athlete for as big as he is, as athletic as he is, a guy like [Jadeveon] Clowney, guys like that.