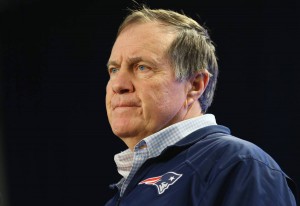 Q: What is it about Logan Ryan's skillset that allows him to be so successful when matched up against bigger receivers?
BB: First of all Logan prepares very well. He studies the receivers, he has a good understanding of our defense and he really works hard at the preparation every week so he has a pretty good jump on what to expect and he's very well prepared week-in and week-out. Logan has got good strength, he's a good tackler, he can get those backs and bigger receivers on the ground, good hands, good awareness and he can play strong on the line of scrimmage and those types of areas whether it's against bigger guys or getting his hands on smaller guys and kind of knocking them off their route. He does a good job in all those areas.
Q: Is he a big weight room guy?
BB: He works hard in the weight room, but I'd say he's got good playing strength and plays with good leverage and good pad level. He's I'd say not by any means weak, but I don't think he's going to hold the weight room records either at that position. But he's got good playing strength and good technique.
Q: Brandon Bolden seems to be very successful at getting to the outside and making yards that way. What have you seen from him?
BB: Brandon has got a real good skillset. He has been a valuable guy for us on all four downs, so whether it's carrying the ball, making tough yards, playing as a sub back and playing in the kicking game, he's shown a lot of versatility and given us a lot of quality plays in all those situations. I think his skillset is really, really good. He's got good quickness. He's got the ability to break tackles in space with his playing strength but he also has quickness to make guys miss out there, too. He's got good run vision, sees the holes and sees where there is space. The play that he made at the end of the game last week in Houston was a really good cut, good play on his part. I don't think we had the play blocked for the kind of yards he made on that play. He got six or seven yards with his vision and getting the ball into space on the cut back and probably made another four or five yards just with his running strength and balance to knock over a couple tacklers and pick up the first down. Probably a little over half that yardage came on his vision, his run instinct and then a few extra yards came on his physical running style and balance. I think that run is a good indication of all those things being a part of his playing style and effectiveness.
Q: Is that vision something he's always had going back to Ole Miss?
BB: Oh yeah, he was a good runner in college, and he's done that for us I'd say throughout his career here.