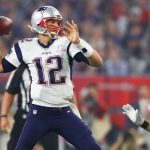 BB: Alright, division game. It's a good opportunity this weekend.
Q: Is a team like Miami particularly tough to prepare for? It seems like they don't have a true No. 1 receiver in the passing game, with most of those throws being evenly distributed among four or five guys.
BB: Yeah, like any good passing team, it's whoever's open. Yeah, they do a good job of putting pressure on you and getting to the open guy. They're all dangerous – backs, tight ends, receivers. Coach [Adam] Gase does a good job with the scheme. The quarterback does a good job reading it. You've got to defend all of them. You can't just stop one guy.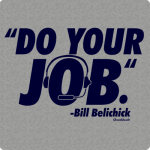 Q: How difficult is it to lose Ja'Whaun Bentley and Rex Burkhead to Injured Reserve?
BB: It's unfortunate for both players.
Q: At this point, do you have any expectations as to whether they'd be able to return this year?
BB: Yeah, we'll see. I don't know. It won't be for a while.
Q: What have you seen from Nicholas Grigsby from where he was in the preseason to now?
BB: Well, he's a lot further ahead because of his opportunity to, again, start from scratch at the beginning of the year in the offseason program, OTAs, training camp as opposed to coming in whenever he did last year – November. He's much further ahead, had a better opportunity to learn the defense, to get reps in it and to play in the preseason. So yeah, he's earned some playing time based on that.
Q: What went into the decision to sign John Simon? What have you seen from him throughout his career?
BB: We felt that based on our situations he was the best player available for our team.
Q: Has he had some versatility throughout his career?
BB: He's played on defense. He's played in the kicking game. He played in a couple of different systems. We'll see.
Q: What could you point to about Matt Light to show your current players what it is that has made Matt Light a Patriots' Hall of Fame member?
BB: Yeah, I've talked a lot about Matt Light to our players. Matt had a great career, worked hard, really tough kid mentally and physically. He had a lot of other qualities but I'd say those two were outstanding.
Q: Are there any good Matt Light stories that you could share from his career?
BB: We'd be here all day. Yeah, sure. We could put a book together of Matt Light stories.
Q: Is the key to stopping Miami's big-play ability on offense just everyone staying disciplined and focusing on what they need to do?
BB: Exactly. Yeah, well-put. We'll bring you in there to talk to the defense about it. Yeah, and you can't stop one guy. They attack you at all different points horizontally and vertically, so if you're deep you've got to be deep. If you're outside, you've got to be outside. If you're inside, you've got to be inside. As soon as you put too many players in one spot they go somewhere else. That's the way those 50, 60, 80-yarders come from. Discipline, tackling, leverage – those are all critical.