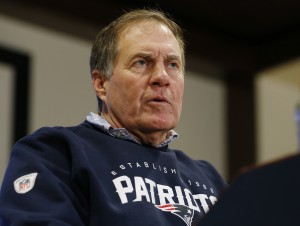 Q: You guys have been one of the top teams in the league in converting third downs, so what was the cause of your struggles on third down Sunday? Alan Branch was one of the bright spots in that game. What have you seen from him this season?
BB: I think Alan has done a good job for us. I thought he did a good job against Denver, but he's been pretty consistent all year, so it's been good. He's been steady and it's certainly been a big advantage this year with him being able to come in at the beginning and not halfway through the season like he did last year, so that has definitely helped him and us. Third down, well, we've got to try to do a better job.
Q: Was it getting into third-and-long or was there something else that contributed to your struggles in that area?
BB: Yeah, the longer yardage didn't help and then we had quite a few … I'd say most of them were over third-and-eight or more. That never helps.
Q: What have you seen from Jonathan Freeny this season on defense? He plays a lot on special teams, too, so how do you monitor his usage during the game?
BB: Yeah, first of all, I think he's done a good job for us in the kicking game. We'd love to use him as a core player in the kicking game, but just as you pointed out with his increased role defensively that's something that we have to keep an eye on and just monitor and try to figure out how it's going to go. Last week, when Dont'a Hightower didn't play in the second half, that was kind of an in-game thing that we worked out. Those kinds of things happen during the game. You just have to make whatever adjustments you have to make in-game and then the following week depending on what the situation is, you reevaluate it and make the decisions for the next week. We'll see how that goes going forward, but he's a guy who's done a really good job for us. He has good length, good size, runs well, is tough, is a good strong run player, good tackler and has done a good job for us in the kicking game. He can blitz. He's got, like I said, good length, which is an advantage in coverage. He's got a lot of strong points. I'm glad we have him, glad we have him.
Q: What have you noticed from Patrick Chung that has helped him become a better player?
BB: Patrick has always been really good – smart, works hard, does whatever you ask him to do, understands the team concept and is a versatile player, so he can do a lot of different things, but whatever you ask him to do he embraces it and works at it and does the best he can. Obviously as we all gain experience it helps us going forward when we can build off those, and I think like any player that's played a number of years like he has you learn a little bit every year. I'm sure he has done that the last couple of years, but that was never an issue for him like having trouble learning or assignments or things like that. That's never been an issue with him.
Q: Cris Collinsworth was raving about his coverage skills on the NBC broadcast. Have you always seen him as a good coverage player or has that evolved over the last two years?
BB: No, I think that's always been a strength of his. I can still remember him being matched up against [Wes] Welker in the slot in practice, whether it be one-on-ones or training camp and team drills and that kind of thing. He's always been very competitive as a coverage player, whether it be on tight ends or slot receivers – whatever it happens to be – but he's obviously worked hard at that and continued to get better. We used him in that role probably a little more this year than we have in some other years, even last year for that matter. But he's worked hard at it and he's done a good job. But no, I wouldn't say it's something that we just saw in the spring or anything like that. There are a lot of good examples of him doing that and doing a good job of it, too, during the first time he was here.