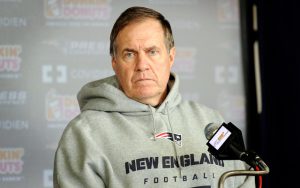 BB: Well, I'm really proud of our football team tonight. That includes everybody; guys on the practice squad, some of the guys that were inactive and of course all of the players that played and our coaching staff. I just thought they really worked hard this week. We had a very, very productive week. I thought the players were well prepared, ready to go and played hard for 60 minutes in all three phases of the game. We had a lot of contributions from everybody. We played good complementary football. It wasn't always perfect but we played hard and we competed for 60 minutes and that was off of a real good week of work. Hats off to them. The players did a great job. They went out and played as competitively as they could and tried to play a smart game, made the adjustments, some of the adjustments that they needed to make to some things that Atlanta was doing, some looks that they gave us. [It was] a really good job by our football team tonight. I'm proud of what they did.
Q: Your 162 yards rushing tonight were the most all season. Was that by design through the game plan or was it just a result of better execution?
BB: Yeah, probably better execution. The more runs you have, the more yards you're going to gain. We played this game from ahead, which that was a switch. We hadn't done a ton of that this year, so that gives you an opportunity to run the ball more. We ran it in the fourth quarter which is another time where you can pile up some runs if you can make first downs. We weren't able to do that against Tampa. We weren't able to do it last week against the Jets. We did it tonight, so it was good to get those yards when they knew we were going to run and when we needed to run we got the yards.
Q: Kyle Van Noy had a key stop in the red area that turned the ball over on downs. What did you see from your defense tonight in regards to making big plays? 
BB: Yeah, we made a lot of stops on third down and fourth down, but we gave up like three scrambles. I think those are the third and fourth down conversions. I don't know if it was all of them but it seemed like it was most of them. I thought, again, we made a lot of plays when we needed to make them, so red area, third down, some critical situations, goal line. We didn't make all of the plays, but when big plays came up we were able to make those plays. Those are big stops for us. Again, give the players credit. They're covering good receivers. They're playing against a good offensive team, a good quarterback, good system, good offensive line. They just really competed with them all the way through. When those plays needed to be made we stepped up and we were able to make most of them. I mean, the catch Julio [Jones] made in the end zone – that's a great play. We were right there and he just went up there and made a Julio Jones play that he makes. I don't know how many other guys in the league make that. So, even when we didn't make [plays] we were close.
Q: Can you talk about what you saw on the blocked field goal attempt by Cassius Marsh?
BB: Yeah, that's another thing that we've worked really hard on is our field goal rush. Guys work hard on that every week. Cassius has gotten some opportunities in practice. It's hard to block Steve [Gostkowski]. Steve gets good height on the ball, gets the ball off quickly. I think this one with not quite as much height maybe as Steve's ball, or at least what Steve's balls were in practice, Cassius got a hand on it. It was a big play for us because, again, we worked so hard on that and that's everybody across the board. That's all 11 guys, not just the guy that blocks it. The other guys have to do their job and if they block Cassius and take him away then that gives somebody else an opportunity so we neve know how that's going to go. We just want everybody to come hard and do their job right and wherever the opening is it is. That was a big play for us. Again, you can see the whole team – we were all excited; sideline, players, guys on the field. That was a big moment for us. Our special teams units work very hard. They take a lot of pride in their job; the return teams, the coverage teams, the field goal and the field goal block team. It's good to see that hard work pay off in a big play like that.
Q: How much confidence does it build in the running game when you get the ball back with four minutes to play and are able to run the clock out?
BB: Well, I think we have confidence. I don't think confidence is a problem. I think it's execution. We were able to do it tonight but we weren't able to do it two weeks before that. We have another team this week – the Chargers – I don't know how we'll run the ball against them. We'll have to go out there and do it again against another good defense, another good team. Whenever we get the opportunity to run it whether it's the first quarter, fourth quarter, whatever it is, we've just got to [do it]. We're getting good play from our backs and our line. We've just got to be a little more consistent. It's good to get that explosive run in there. When you can get a 20-yard run or a 15-yard run that helps the running game a lot more than seven three-yarders when you can rip off a 20-yard run. It's good to have a couple of those.
Q: You ran the ball more tonight than you passed it. Was that by design that you tried to limit your exposure to Matt Ryan and that offense or was it just coincidental towards how the game played out?
BB: Yeah, I mean offensively our job is really to go out there and move the ball and score points. So if we do that then that's good. If that means we throw it 60 times then we throw it 60 times. If we run it 45 then we run it 45. The most important thing is to move the ball and score points, so that's our objective.
Q: How have some of the new players who were acquired right before the start of the season acclimated themselves here, in particular Johnson Bademosi and Cassius Marsh?
BB: Yeah, well those guys have worked very hard to come in and you can include [Marquis] Flowers in there, too. Those guys have worked hard. They have tried to – and [Phillip] Dorsett – they've tried to learn our offensive and defensive and special teams systems as it applies to their position, have taken a lot of extra work on the practice field with what we call the basic groups – the guys on the practice squad and so forth – to build their reps and experience up in our system. It starts with that and, look, everybody wants to play. You never know when that opportunity is going to come but there's a good example of a couple of guys that have gotten it and have been able to take advantage of that play time with good performances and earn more play time, not unlike other guys that we've had in here in other years, similar type examples to that. All four of those guys have worked extremely hard. We have some rookies on our team who are also, they were here, but again, they don't have a lot of experience so they're kind of in that same category, too. [Adam] Butler had a couple of big plays for us and Deatrich [Wise], so those guys have been able to step in there and contribute, too. [Jacob] Hollister is starting to have some production in the kicking game. Hopefully, as the year goes on those guys will continue to – if they work hard and continue to be productive their role will expand.