Belichick, Happiest Man Alive!
by Kristy Spinelli, BSD Correspondent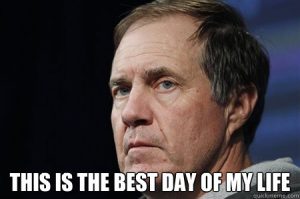 Foxborough, MA – Bill Belichick must be the happiest man alive!  After Sunday's 16-3 win over the Denver Broncos, the New England Patriots clinched the AFC East crown.  At 64 years young Belichick has helped the Patriots set an NFL record for consecutive division championships with eight.  They are the only team in NFL history to win 13 division titles in 14 years with Belichick setting the record for most division championships by a head coach with 14.  The Patriots became the fifth team to make the playoffs in at least eight consecutive season, clenching their seventh consecutive 12-victory season tying them with the Colts since the 1970's merger.
Knowing and understanding Belichick, who many consider the best coach ever in the NFL, is something few people can honestly say. He hides his excitement and more times than we can count, is made fun of and fuel for humorous pieces like on "Family Guy" and several local cartoon artists.  Belichick could also someday hold the title of world's best poker player…well, once he considers leaving the Patriot's payroll years from now!  His face is on point!!!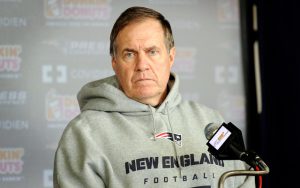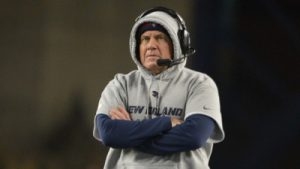 With just two games to be played in the regular season the Patriots have locked up at least a first-round bye, but will need to secure the top seed to ensure they will be playing postseason games at home in Gillette Stadium.  As all Patriot fans realize, the journey is far from over.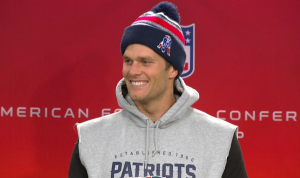 When Belichick and Brady addressed the media following the defeat in Denver and once again reminded everyone that it was a "team win" that ultimately provided the now 12-2 record.  While Brady glows and flashes that huge smile of his during press conferences, Belichick likes to keep his enthusiasm under his notorious cut-off sleeved hoodie!  My guess is THAT is his superpower!!!  The smile that he is so excellent of keeping under lock and key works wonderful with the humble attire Belichick chooses when he chops off his sleeves, (often crooked and sloppy) as a statement of being a coach first and foremost, not a weekly fashion model.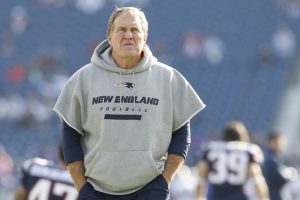 Belichick said after yesterday's game, "We still have more we can accomplish and our goals can now be reset, but this is the first one, to win the Division and so that's definitely something to be proud of…something WE accomplished."