BOSTON BRUINS FORWARD DAVID BACKES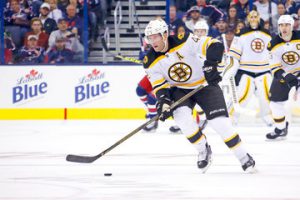 On if it felt weird facing his former team…
A little weird at first but you realize you're wearing different jerseys and you're playing for keeps. You get a couple of bumps and, I wish, I think the whole team [wishes] – that we had a different outcome tonight. We had a couple of good chances there late. I just think we had a dry spell there in the second, they capitalize on a few chances, Zee's [Zdeno Chara] not in the game, and it takes us a little while to realize that life's going to move on, we'll be okay without the big man. As big of a part of the team as he is, we did a good job regrouping and then putting a little push there in the last part of the second and third. A little chance on the rebound, six on five, and Jake [Allen] makes a good save, so I wish we had a different outcome but not the case and we've got to regroup and win a game in Ottawa.
On scoring against his old team…
It was certainly a good point in the game, you're 10 minutes in, second power play, Krech [David Krejci] keeps the puck in, give it to Torey [Krug] who steps in to give it a little tip, find a rebound, then slam it in. It's certainly a good feeling but I'd give it back if we could have won tonight and had a little bit more of a joyous occasion after the game here.
On if losing Zdeno Chara in this game had a bigger effect on the team than they realized…
I think it maybe took the forwards a little bit to realize that we were down to five D. I think our play was a little more reckless than needed to be with five D, you want to make sure they're able to roll over and get fresh legs out there and not get caught with only five guys rolling over back there. So we've got to be smarter when we're down a man like that, especially a big part of the team like he is. Hopefully it's very temporary and he'll be back in short order, but if not, we've got to have different guys pick up the slack and move forward. He's obviously an awesome player, but we're going to have injuries to guys and we need to spread the wealth and all shoulder a little bit more load and find ways to win games.
On how much Jake Allen kept the Blues in the game tonight…
He made a couple of key saves at key times, but if you look at what Tuukka [Rask] did with the breakaway that [Jaden] Schwartz got there in the second or first, whenever it was, makes a huge save, keeps us with a one-nothing lead and that should be a rallying point, and we played better going forward. Dominic Moore's an awesome effort, shorthanded, to get us the lead again at 2-1 and that should be time to lock it down and not give them anything. Instead I think we got hemmed in our zone a bit too much, a few too many careless plays and they made good on them. That's just not an awesome feeling at the moment we would have really liked to win this one.
On how his emotions ran throughout the game…
I was keeping…you know, I told you before I wanted to stay in the moment, and I wrote that on the wrist tape that I have to stay in the moment and stay focused and do what I can to help this team win games. Again, we occupied the zone, had a few real good looks there late, Krech [David Krejci] able to force a turnover in the slot, and I don't know if he missed his mark or if Jake [Allen] made a save there. I'm trying not to get too caught up in it, because I want to make sure that I'm an effective player for the team and helping us to win games. Not enough tonight, unfortunately, I wish it would have been.
On what he gave the team for dinner last night…
I tried to weight them down with a bunch of steak and had my wife going around with wine trying to slow them down that way too, but maybe we needed to keep them a little bit longer. They had good transportation planned to leave at nine so they could get a good night's rest, but I tried like crazy trying to slow them down and get that extra edge.
On if it is frustrating that sometimes the best effort is not good enough for a win…
Sometimes it's a matter of circumstances and bounces, but another game where we get over 40 shots on a team that's really good defensively and good at keeping teams out of their zone and limiting opponents shots that you just – we need to find a way to get more, and I think there's a few loose pucks, second opportunities that if it's under the bar we really bear down there, shoot it through the goalie or through the back of the net. Maybe it's a 5-3 game or a 5-2 game and a different story can be written, but not the case, we've got to move forward and learn again a tough lesson of 40 shots and two goals. We need to get what we're putting into these games and start reaping some of what we're sewing.