Brave, confident, punk-rock, pop princess of the 2000s. These are just a few characteristics that may come to mind when thinking of the epically feminine yet edgy persona that is Avril Lavigne. Her music was the soundtrack to so many childhood and teenage years, and a lot of her popularity is due to her connection with nostalgia and the passage of time. But now, a whole five years after her last tour, Avril Lavigne is back to tearing up the stage with her Head Above Water Tour. In support of her latest album, I got to catch Avril's Boston stop of the tour at the charming Orpheum Theatre on October 3rd, and let me tell you – she did not disappoint.
After the alternative rock opening set by Jagwar Twin, Avril first appeared on the stage wearing a beautiful white flowing dress to solidify the mood of her passionate titular track, "Head Above Water", which was written during the darkest points of her battle with Lyme Disease back in 2014. Lyrics like "My voice becomes my driving force, I won't let this pull me overboard" reverberated in the theater as the crowd exploded with a sort of reverent excitement. The swelling piano chords filled the room as her emotional lyrics touched everyone's hearts. This song was a powerful opener, due to its emphasis on being brave while also feeling very vulnerable.
Behind her, a large screen behind the stage treated the audience to decorative graphics from her music videos to create the mood and heighten the nostalgia for each song. I loved this added experience to her live show as I got to remember her music videos and the various different eras that I had seen Avril grow through. After that first song, Avril disappeared backstage for a costume change, reappearing moments later rocking an outfit from her Abbey-Dawn collection with bright pink tulle short sleeves reminiscent of butterfly wings after her band kept the party going by riffing instrumentally on her opening song.
The next song of the night was probably my all-time favorite of Avril's – "My Happy Ending". Reasons for this include the way I heavily relate to this song, especially where it says "you were everything, everything / that I wanted / We were meant to be, supposed to be / but we lost it. All the memories so close to me just fade away / All this time you were pretending / so much for my happy ending". Part of the magic of Avril's lyrical writing is the way that she essentially writes what everyone else wishes they had the guts to say – and she says it with such confidence and attitude that a strong sense of cathartic release comes from listening to her songs. 
It's so hard to pick which songs to comment on, because Avril Lavigne literally has no bad songs – each has such a piquant emotion to it that grabs hold of your heart and refuses to let go. She is so captivating and relatable, and her talents are undeniable. Lyrically, I especially enjoyed hearing her song "Here's to Never Growing Up" which is an anthem of remaining youthful and vibrant no matter how old you get. A more tongue-in-cheek moment which I really enjoyed screaming in the crowd would be the chorus: "We'll be running down the street yelling kiss my ass / I'm like yeah whatever we're still living like that / when the sun's going down, we'll be raising our cup / singing here's to never growing up."
Ironically, Avril herself never seems to age – she even reflected a bit on how it's been seventeen years since her first single "Complicated" hit the airwaves, and how "it was the first time I heard myself on the radio, I was seventeen". I can only imaging what that must have been like at such a young age, but Avril has grown so much since then, and seeing her younger self superimposed on the screen behind her from the original music video was truly special. This song has been around so long that literally everyone in the room could likely feel it pumping through their pulses – it's a powerful anthem for anyone who doesn't feel like they belong (which, let's be honest, has definitely happened to all of us at one point or another).
The next chunk of the show consisted of songs like "Tell Me It's Over" – one of her more soulful songs from her new album, all about a relationship that had been ambiguous for a while but is finally starting to end – as well as emotional songs like "Keep Holding On" and "When You're Gone". She also addressed the crowd to talk about the song she had written for Kelly Clarkson years ago, "Breakaway", which she performed a shortened version of: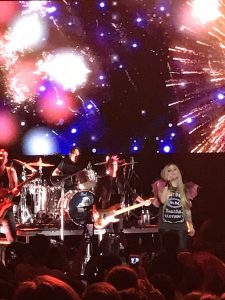 "I'm just so grateful for all of you, and so grateful for music, and the power of music, and I love you guys. So I wanted to perform this song on tour. It's called 'Breakaway' by Kelly Clarkson. It's a song that I wrote for her first album, and I never thought to perform it until this tour. Songwriting has always been a huge thing for me. Writing music, my life, putting it into poems, songs. So this is a song I wrote seventeen years ago."
I noticed the way that Kelly Clarkson's version featured the lyric "grew up in a small town / and when the rain would fall down, I'd just look out my window", while Avril's original version mentioned "when the snow would fall down". It's a subtle change, but I enjoyed what I assumed was a little nod to Avril's hometown of Napanee, Ontario where snow is likely more symbolic than rain.
While Avril ran backstage again momentarily, cartoon cupcakes filled the screen and electrified techno beats filled the theater, signaling Avril's more eccentric club-beat tune "Hello Kitty". I was thinking maybe she'd sing it, but only the backing vocals hit the speakers. It was a unique choice for an interlude, and it made me laugh. In the context of her deeply emotional songs, this one is, well, not (it mentions things like "let's all slumber party / like a fat kid on a pack of smarties / someone chuck a cupcake at me"). But it was a great way to lighten the mood in the middle of an emotional show.
Then I practically lost my mind when I heard the sassy chanting of "Hey, hey, you you, I don't like your girlfriend" because that song has quite literally been in my head for years and it's been scary accurate for me (as I'm sure it has for many girls in and around my age bracket). Paired with the driving guitar riffs and snappy vocals, this song is a relatable anthem that I found myself screaming along to: "in a second you'll be wrapped around my finger / cause I can do it better / there's no other / so when's it gonna sink in / she's so stupid what the hell were you thinking". Avril even mimed some of her original dance moves from the music video that was featured conceptually on the screen behind her. This was an interactive and incredibly powerful experience for the entire crowd, and may have been the standout song of the night in my humble opinion.
Avril kept the sassy vibe going with her newer song "Dumb Blonde", and paired it cleverly with older beloved songs like "He Wasn't" and the generational cult-followed and meme-inspiring song "Sk8er Boi", which tells the age-old story: "He was a boy, she was a girl / Can I make it any more obvious / He was a punk, she did ballet, what more can I say?" I marveled at how well Avril's newer songs fit with her older beloved hits, and yet, she showed such a progression of maturity and wisdom looking back at her previous work.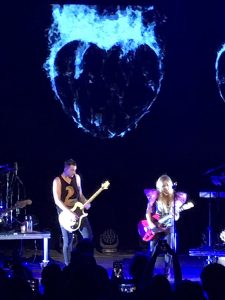 "Sk8er Boi" was the last song of the main set, and as the band left the stage with Avril, they all reappeared after an agonizing few minutes with Avril having donned a beautiful red ensemble to be more dramatic and cognizant of her newer song "I Fell in Love with the Devil" from Head Above Water. This song was easily the most dramatic of the night, with Avril's harmonizing vocals providing a positively haunting intro to an incredibly honest song depicting a struggle with being stuck in any kind of addiction, be it with a substance or a person that is less than beneficial: "Angels, devils, fight over me / take me to heaven". Her lyrics provide the listener with very clear symbols and images, especially paired alongside the dramatic music video footage of her being in a coffin with elegant lace laid over her snow-white face. Avril played piano for this song (as she did for a couple others that night), and it shows how well-rounded her talents are (as she plays guitar most often, but also piano, and even allegedly hops on the drums occasionally even if the Boston audience didn't get to witness that).
After a whirlwind of various tones and styles, Avril ended the night with her song "I'm With You", with the comforting lyrics "It's a damn cold night / trying to figure out this life / won't you take me by the hand take me somewhere new / I don't know who you are but I'm with you". This song felt like a warm hug after a musical journey through time and space. As she ended the show, it felt as if Avril was promising her fans that she would always be there for them, and that everyone in the room could take comfort in that truth. I especially loved hearing the almost yodel-like vocal runs in the bridge section of the song, that I've always thought were super iconic and a unique application of Avril's early folk music influences.
This concert was easily one of the most special live music events I have ever attended. Avril Lavigne is easily one of my biggest heroes and personal influences – she's strong, fearlessly honest, and takes crap from no one. And I greatly appreciated her greater openness about her Christian faith in the face of adversity, which I relate to as well.  My only critique of this show is that it was marketed as a tour all about her newest album when in reality, maybe only about ten percent of the show was dedicated to her latest work (being about three songs off of the new album). All the rest was oldies but goodies – which I was thrilled to hear, even if I did find it odd that the tour wasn't marketed as maybe a best hits tour, since it would have been a lot more relevant to what Avril seemed to want to present to her audience. But overall, I couldn't have been happier about attending this wonderful show. They say that meeting your heroes is disappointing, but I gotta say that attending their live show for the first time is every bit as wonderful as you would expect. I could literally tell my life story through her songs, and that is as powerful a connection as you can get.
Until next time, Avril. Keep holding on.
Catch Avril Lavigne on one of the remaining dates of the Head Above Water Tour!
Angelina Singer
Boston Sports Desk Correspondent
angelina320@icloud.com
Kindle Direct Publishing Author
Instagram/Facebook @angelinasingerauthor