From the moment the Stranger-Things-esque piano chords hit the speakers, and the guitars hit with the drum kit into an explosive frenzy, I knew the Fandom Tour was going to be something truly special. "Cherry Red" was the opener for both the album and the tour, which offered a really unique thematic element linking the two bodies of work together.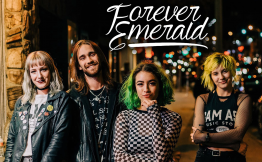 The moment the screaming guitar riff hit my speaker, my interest was piqued. I was listening to Spotify in the background casually last week, and I don't usually keep track of who I'm listening to. That is, unless the music grabs me like the opening lick of  "Candy" did.
The colorful album art for the single...
Read more