Podcast is also available on Spotify and on whatever platform you listen to podcasts!
Wicked Take Boston Sports podcast episode 22. PLEASE SUBSCRIBE AND RATE THIS PODCAST! Wicked takes, hot takes, and some wicked hot takes. Victoria Diamond (@TorrieDiamond),...
Read more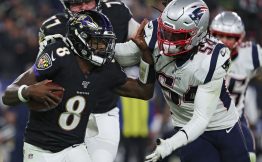 It seems like the sky is falling in Boston. The first lost since week 15 of the 2018-19 season and 323 days ago for the New England Patriots is what this team needed in order to succeed.
Read more