By Kevin Flanagan
Call me Captain Obvious, but 2020 has been a year that we would all like to forget but most certainly won't be able to. Terms like self-isolation, social distancing, and the most insidious of them all -the new normal - are so deeply burned into our memory that they are impossible to purge.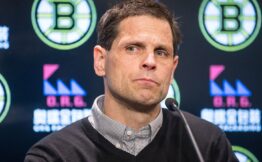 By Kevin Flanagan
This mystifying, oddly timed offseason has become increasingly more perplexing for Bruins fans who are seemingly watching their favorite team taking a Sunday drive on the road to nowhere with each passing day.
After rumblings that the B's brass was under an ownership enforced internal salary cap that Jeremy Jacobs was so famous for...
Read more