By Kevin Flanagan
BSD Senior Staff Writer
For those of you who don't know – and why would you, the Red Sox and their pathetic puppet network NESN didn't waste a single second to promote it throughout yet another dreadful loss at the hands of an MLB bottom-dweller – Saturday was ALS Awareness Day at Fenway Park.
And just like the Boston bullpen blew the win against the borderline Triple-A Blue Jays team 8-7, the fraudulent franchise that fancies themselves as pillars in the community when it comes to worthy causes, likewise puked on their shoes like the second rate relievers that cost them the game.
Prior to the game, the Pickett family took to the field at Fenway as part of the "festivities" for the day along with other courageous families that have fought this horrific fight.  Their dad Steve lost his battle with ALS in February, after devoting every ounce of energy he had advocating for awareness and funding to battle the long-ignored ailment that everyday stripped him of the simple things in life we take for granted since he was diagnosed in the fall of 2015.
His son Chris threw out one of the first pitches, accompanied by his twin sisters Jessica and Kerry and other family members, along with those of the charity organization that the man his friends called "Pic" served as a spokesman for lined the infield.
(Side note – I'm not mentioning the name of the organization because I don't want them to suffer any reprisals for this blatantly personal rant.  If you are so inclined, a simple Google search will be sufficient to satisfy your curiosity)
And while you would expect that a franchise that goes out of their way to puff out their collective chest anytime they think it will make for good PR, they chose to ignore was a great opportunity to support a cause that still exists largely because it has been crassly overlooked for so long.
For as much as the Red Sox like to claim to be such a charitable outfit – and there is no denying what they have done for the likes of the Jimmy Fund and Dana-Farber in the past – those relationships give the team the slap on the back and the "prestige" of being an outstanding entity in the community that quite frankly simply tends to stroke their already overgrown ego more than anything else.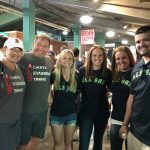 For the record, I know how much losing a loved one to cancer sucks.  I'm not sure anyone among us hasn't experienced the loss of such a dreadful disease.
Nevertheless, the reason that the pharmaceutical companies spend so much money on research on drugs for cancer is not the hope for a cure, it is because it is profit.
That's the suck-ass truth and shame on you if you don't believe it.
And that's also why fake-ass franchises like the Red Sox are willing to hold two-day telethons for the Jimmy Fund and won't give 30-seconds of close to meaningless airtime – have you seen their NESN rating lately – to a long ignored – and likely more curable disease if the same pharmaceutical companies that were so "committed" to curing cancer, invested even a quarter of that cash in researching drugs to help cure ALS.
"Medical statistics say that 500,000 people alive today will die of ALS. Obviously, that includes people that haven't got it yet," Pic told me.
"If you factor into that 500,000 number, the number of family members and friends that will be affected, that number grows exponentially. If those 500,000 people have 10 close family and friends, that number grows to 5,000,000 affected. If they have 20 close family and friends, the number would be 10,000,000; so the effect is widespread."
The above comes from a conversation that I had with Pic shortly after he had been diagnosed in October of 2015.  You see, he had done his research and then some.
The truth is, even to this day, you don't actually get diagnosed with ALS, the doctors just eliminate the other causes of the symptoms until there is no other answer but the slow – and most assured and inhumane – death those who are afflicted with this underfunded and largely dismissed disease ultimately face.
Let's face it, if Betty the wife of one of the Sox bullpen bums was holding a bake sale for the charter school her kids went to, NESN wouldn't only give her a half an inning in the broadcast booth, they would probably put together a half-hour special on the half-assed network that she wouldn't even watch.
Nevertheless, the Red Sox once again snatched defeat from the hands of victory – as they have so often on the field this season – and blew the opportunity to shed light on an illness that has long been overshadowed due to its lack of profitability.
And, at the end of the day, who is really surprised by this collective callous attitude?  It's long been about dollars and cents for the team that formerly called Yawkey Way home until the winds of political correctness recently shifted.  So why should things change now?
By the way, anyone want to buy a brick?
Shameful.  Absolutely freaking shameful.
Follow on Twitter @KevinMFlanagan.  Email at kflan@bostonsportsdesk.com.