To: Isaiah Thomas
Boston Celtics
From: Kevin Harriman
Boston Sports Desk
RE: All-Star Game Status
Date: January 23, 2016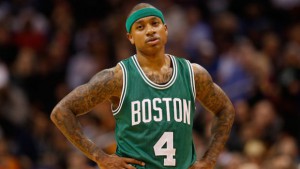 In your brief time here in Boston, you have proven your love for this community, its fans and the history of your employer, the Boston Celtics Basketball Club. Your play has been outstanding. Celtics fans have not seen such backcourt quickness, the ability to get to the rim and to score in some time. The name Nate Archibald comes to mind when you think of a penetrating point guard. Thats how far back it goes.
But I must say, for the all good things you've done, you're annoying the crap out of me !
Every time I see a clip on TV or read a piece in The Hearld, all I hear is how you want to be on the All-Star team. How you deserve the selection. How you've earned it. ENOUGH !
You're becoming a bore.
The good Boston Celtics teams never cared about individual stats.Stats were measured in terms of NBA Titles. Anything less than a title was considered a bad year.
A me first attitude sucks. Basketball, like hockey, is a true team sport. One ball/puck with five players working together. The desired objective is to score and play defense.
Look back at some of the more memorable Celtics players who were all about their individual stats. There was Antoine Walker and his 3-point attempts. More recently, you had Rajon Rondo who routinely put up triple double stats when a National TV camera was televising a C's game. You had Sebastian Telfair who never saw a shot he didn't like. Way back you had Sydney Wicks and Curtis Rowe. Really bad team players.
I.T., when I hear you make comments about making the All-Star team like…""I think I should (make it). But I've been gypped all my life." Or this classic.. "Put my numbers up against anybody in the NBA and they're right there. It's only questionable because I'm 5-9."
No one in Boston, I repeat, NO ONE, gives a rats ass if you make the team. No one is going to loose any sleep or double up their Prozac if you don't make it. Hard core Celtics fans want banners, specifically Banner-18.
Knock this bullshit off. If you make the team, great. If not…work harder to put your signature on this team with another Banner. On January 28th, the list of reserves will be named. Its not that far away. Until then, keep quiet on All-Star selections.