One of the newest artists to sign with Boston-based management company Strega Entertainment Group (also home to previous BSD article featured acts like Sons of Levin and Widowmade), Mandi Crimmins brings her own undeniable brand of emotional songwriting set amidst impressive vocal gymnastics and wild chord progressions. Her previously-released EP called Metanoia, is a beautiful foray into repentance and growth set to crazy key modulations making her music instantly identifiable as hers. This new single "Making Me Hate You", is an interesting thematic progression from that particular sentiment, as now the rockstar is full of passionate distaste for what is assumed to be an ex-lover.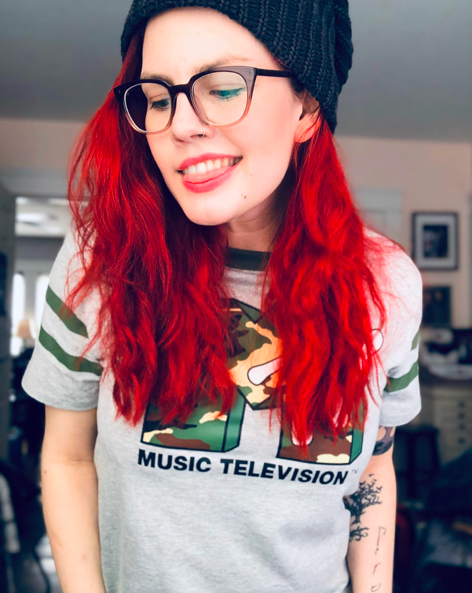 Her newest single, "Making Me Hate You", features vocals instantly cognizant of rock and roll greats like Dolores O'Riordan (The Cranberries) and Florence Welch (Florence & The Machine). With a twinkling, dream-like opening and ethereal harmonies to match, I can only imagine that the aforementioned bands must be significant influences for this ruby-haired starlet.
The verse then launches into a techno pop beat that is an instant departure from the fairy-like intro, with only subtle echoes of the past harmonies returning to the sonic surface. "I still love you and I compromise respect for neglect" is a hauntingly relatable line for anyone getting out of a toxic relationship.
The chorus drops with an almost tribal drum beat that feels stadium-sized and angry. Like an upset heartbeat, it weaves in and out of her pained vocals, proclaiming "I hate you / 'til you want me" and "I pick up the pieces I break for you" and is insanely visceral and powerful. Something about the vocal melody here reminds me of a Scottish folk tune – perhaps the way certain sonic intervals are chosen to be emphasized through intricate vocal runs mixed with the resulting harmonies with the whining electric guitar licks behind them. Together, these components produce a really striking effect.
The bridge section builds onto these ideas with Mandi sharing imagery of feeling trapped "how can I break free / if I can't find the keys / set me free" as instrumentals build into a very slick key modulation that leaves the listener feeling, well, free. Because the rest of the instrumentation is especially stripped down during this part – with just a subtle dub-step and piano chords taking the lead – her vocals especially shine as they build into the key modulation at the end of the phrase.
Just like the speaker of this poetic rock ballad, the end of the song allows the listener to revisit the message with a new sonic perspective. With a half-step lift to the progression, everything feels brighter as the vocalist previously trapped in her conflicting emotions finds her voice and starts to soar over the very same things that once held her captive: "you don't even notice / maybe this was your motive / string me along".
The song ends as the tribal drums mix with the techno beats and everything comes to a head in an exuberant sharp ending. The conclusion to the piece is satisfying, leaving the listener wanting more. With endless potential for radio play from its clever lyrics mixed with insightful production and instrumental arrangements, "Making Me Hate You" is ironically, a song you will love. Give it a spin, available on all streaming platforms now. And be sure to watch the gorgeous concept video HERE: https://www.youtube.com/watch?v=7Gqbmr4LaiQ
Follow Mandi Crimmins on her socials! @mandicrimminsmusic (Instagram) @iheartsinging (Twitter) and check out her website https://mandicrimmins.com (all photos used here courtesy of her website)
Angelina Singer
Instagram @angelinasingerauthor
angelina320@icloud.com
Kindle Direct Publishing Author