Against the Current is one of those bands that I quickly found myself getting more and more wrapped up in. The YouTube algorithm is sometimes surprisingly good at recommending bands that you might like based on the same eight songs you keep on repeat. And ATC is that band for me. Comprised of vocalist Chrissy Costanza, guitarist Dan Gow, and drummer Will Ferri, the band has collaborated with a lot of popular YouTube musicians (including Alex Goot and Kurt Schneider). So they've been on my radar for a while, and now they've just dropped a very slick, seven-song EP built off of their lead single "weapon" that dropped back in March. Obviously, how could I not write about it? My little emo heart just couldn't resist.
So here you go – this is my track-by-track breakdown of Fever by Against The Current:
1. that won't save us
Every single time I listen to this song and see the music video, the beeping of the car doors makes me think of Olivia Rodrigo's "Driver's License" even though the two songs couldn't be more different. Lyrics like "maybe we were born to fight / if we wanna make it out alive / we gotta let the anger die / because that won't save us" are so well-written and thought-provoking. Chugging electric guitar provides a gritty sonic texture that fully explodes over the course of the chorus. Bringing everything back down to ground level is the chilled-out bridge, which presents the subject of the song as a more desperate, last-attempt at healing. Then the song reverts back to the head-banging goodness as seen in the choruses. Sick drum fills implode, cranking the energy up to eleven. Watch the dynamic video HERE.
2. weapon
Heard this song back in March when it debuted, and I loved it then, too. This song, and the rest of the EP, is considerably heavier than the rest of the Against The Current backlog. But there's something really honest about the band being willing to portray their stories as loud as they want to. I'm sure the fans will love it – and the band will have nothing to worry about. It's cliché to compare every female-fronted band to Paramore, but this song really is the poster-child for that. The emphasis on palm-muted verses leading into steadily-rising pre-choruses with staccato drum fills into anthemic choruses is exactly something Hayley and her crew would do. "No I won't go under / no I won't back down / bittersweet surrender it's better now" is repeated twice in the bridge, as an incantatory promise toward better self-care and awareness. I also love the guitar riffs at the end, which add a really nice dynamic to the abrupt ending. Watch another music video HERE.
3. again&again
Very typical pop chord progressions greet the listener's ears on this one -easily the most high-octane song on the EP yet. Made for moshing at Warped Tour (or, Sad Summer Fest, perhaps), this song has a ton of energy in it. Very cohesive textures and staccato drum fills make it a very sonically similar addition to the other song. "Now it's all in my head / it's over and over again" are the center of the chorus lyrics – which is repeated to emphasize the cyclical function of healing. Guardin is featured on the bridge section, which really takes off. And I've never heard of him, but it's interesting to see ATC dip their toes into the heavier sub-genres like, dare I say, post-hardcore music. Good for them! Watch another chilling video HERE.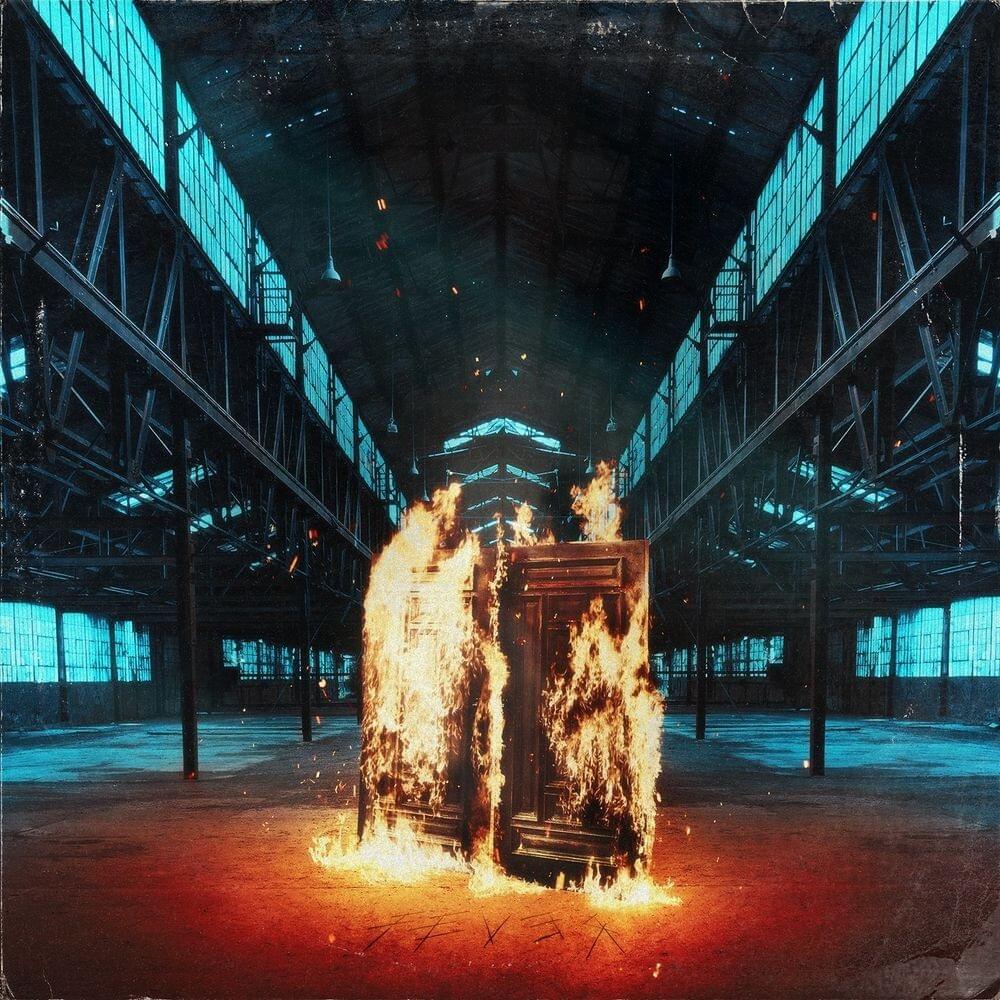 4. Jump
Before I was privy to the new EP dropping, I was almost wondering if this was a Van Halen cover – because you never can know with this band. But I was pleasantly surprised that this was their very own tune, stocked with wall-to-wall grit. "So just jump / what are you waiting for / don't be afraid of wanting something more" is a great mantra for anyone like me struggling to take a risk. Although Against the Current is no stranger to writing about relationship struggles, I also appreciate their ability to write songs about living life and being your best self (see, 2016 release "Young & Relentless"). I will say that although it's a plus that all these songs are cohesive, I'm starting to feel like they're all exactly the same. Which is, of course, not entirely true. But it definitely feels that way at times. Still, this is another great song with yet another cool video to accompany it HERE.
5. shatter
This song is a lovely departure into somewhere new. Just rich vocals and soft, clean guitar articulations build a comfortable nest around the harmonies. That's especially ironic when Costanza sings "you say I'm such a bitch but what do you know / I know we've said this all before / but I'm so tired of waging war". There's also this idea that the potential of breaking always exists no matter how solid a relationship seems at the time. It's the perpetual uncertainty that the band wants to tap into – and as a result, this song has taken a turn for the mellow, melodic, ballad side of things. It's great to have a little break from the grit as exhibited in the previous songs, as well as to see the band's range.
6. burn it down
This song is surprisingly poppy, making it feel a lot more at home on their previous CDs. That's definitely not a bad thing though – their old stuff is beloved for a reason by their fans, so they'd be stupid to chuck it completely. There's still a good deal of electric guitar in this, but it's mixed with a lot more clean guitar as well. It feels like a mix of As It Is and All Time Low – two of my pop punk favorites. Lyrics include "gonna die in the bed you made / burn it down right here right now / what does it take just to break away?" which is a clever metaphorical questioning of one's choices of when to let go and when to try again. It also has a good deal of coming-of-age flavor, with the very typical leaving your hometown motif as seen in every angsty emo band ever. Probably my favorite on the EP, easily.
7. lullaby
Has a slight R&B feel – that is, before the electric guitar kicks in. This final closure to the EP has a lot of intrigue to it, with glittering techno-laced notes floating at the top of the mix. "Are monsters made or are they born / I've been here before" are fantastic lyrics with a lovely narrative quality questioning how people become problematic. The chorus explodes, just to be reigned in far too early, leaving the listening wanting more. There's also a mythological feeling to the thematic content of this song, referencing monsters, gods, wars, and nightmares. Would be a cool addition to the Percy Jackson and the Olympians movie soundtracks, don't you think? Although the title implies the song is calming – it's far from it. And I think the band was playing into that as they're trying to cope with reality and life stressors. Solid ending to a very strong album.
Whether it's a battle with mental health or a deteriorating relationship, Against the Current offers their music as a warm hug to anyone who's stuck in the trenches. The human experience is, in itself, a complex trip – and this album beautifully portrays that. So wherever you are on your journey, listen to Chrissy, Dan, and Will – and just know that everything's gonna be all right.
Stream the Fever EP and other music by Against the Current on Youtube HERE and Spotify HERE.
Angelina Singer
angelinasinger.com
@angelinasingerauthor
angelina320@icloud.com