All Time Low rejoins the pop punk scene with their new single "Some Kind of Disaster", and this new mindset of self-awareness and ironic confidence born out of the rejection of fitting in is such a good vibe for this new decade.
With members Alex Gaskarth (vocals) and Jack Barakat (guitar) working on new side projects (Simple Creatures and Who Hurt U, respectively) separately as of late, All Time Low had taken the back burner until now. But it's 2020 now, and the boys are back with one extreme banger of a tune. After a couple meager releases over a year ago ("Everything is Fine" and "Birthday") to tide everyone over until the next era, the band is back now with a song filled with dramatic musical elements mixed with extremely healing mentalities and reflections.
The song opens with slow vibe-y guitar chords as Alex sings the chorus: " I'm a liar, I'm a cynic / I'm a sinner, I'm a saint / I'm a loser, I'm a critic / I'm the ghost of my mistakes / And it's all my fault that I'm still the one you want / What are you after? / Some kind of disaster, yeah". From there, the tempo picks up and the drums come in amidst the driving power chords and thicker sound into the first chorus. The song grows from there, as the dynamics, rhythms, and tempo ebbs and flows – just like life, and grieving.
Some of my favorite lyrics from this song would have to be "I crashed down from a high that felt so real / I never knew how much it would hurt to feel / You gotta hurt sometimes to learn to heal / You gotta get back up and learn to deal, yeah". This is coping and growing in its rawest form, and I love the way the band both acknowledges how hard this is, but also encourages the listener to do it anyway and keep moving forward. Like a bright, warm hug, this new single is an artistic foray into the complexities of the mind and the human experience of sporadic ups and down.
Towards the end of the song during the final chorus, there is a very subtle key modulation after a dramatic build, which I personally really enjoyed. For a relatively standard short pop song, this song features so many twists and turns, but it all fits together really well, both within the microcosm of the song, as well as the larger macrocosm of All Time Low's discography.
For lack of a better term, this song sonically illustrates the very human experience of finding yourself amidst the pain and struggles that come with being overly saturated with expectations – be it your own, or someone else's. It's healing, and real, and is a bright and honest foray into the new long-awaited era of All Time Low.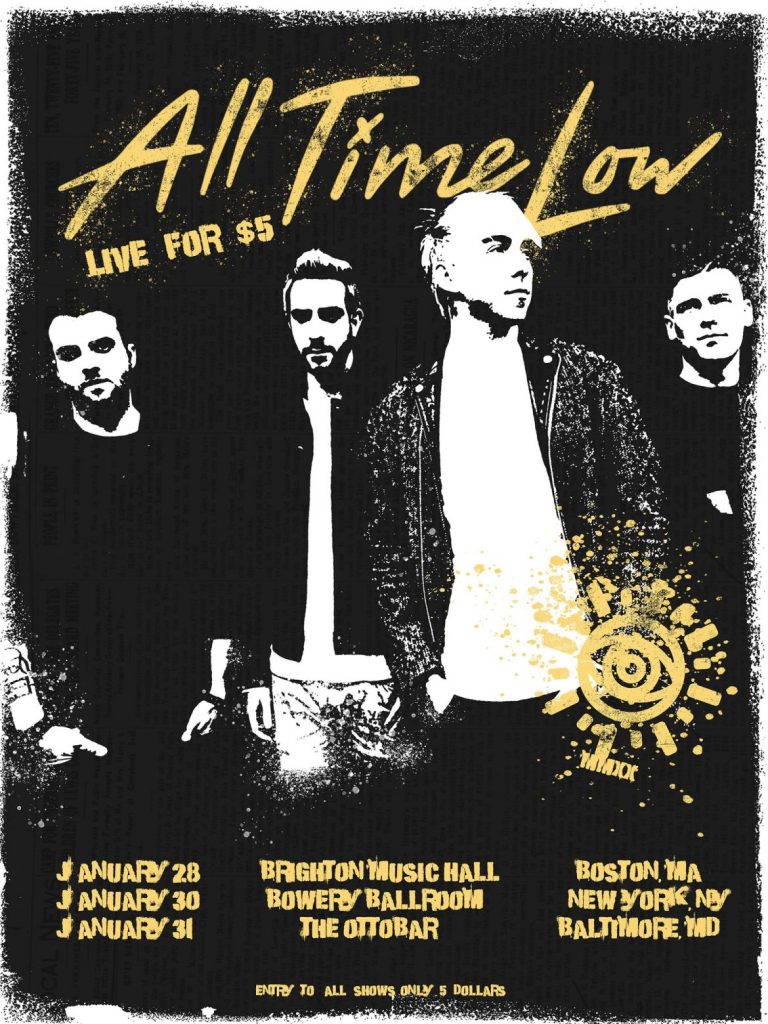 The outro has been theorized to be a subtle nod to a track off of their last 2017 full-length release Last Young Renegade. Specifically, "Nice to Know U" opens with the same sort of buzzy outro, which fans are speculating is the final goodbye to the LYR era. All Time Low are known for always connecting their work together, as seen through their four-part concept video series in that previous album cycle as well.
Now, with the support-group themed concept video for "Some Kind of Disaster", fans wonder if there will be more connected videos in this era as well. Only time will tell, but so far, this song has been received incredibly well. You can watch the new concept video HERE: https://www.youtube.com/watch?v=OTwdgzeey8w
Overall, this song is such a realistic portrayal of life, love, and moving forward. Listen to it over and over until your own struggles start to slowly fade away into the warmth of feeling related to and very much not alone.
Written by Angelina Singer
angelina320@icloud.com
Facebook / Instagram @angelinasingerauthor