With a surprisingly simplistic album title functioning as a very slick acronym representing Calum, Ashton, Luke, and Michael, the band is taking listeners on a surprisingly raw and multi-faceted look at their journey.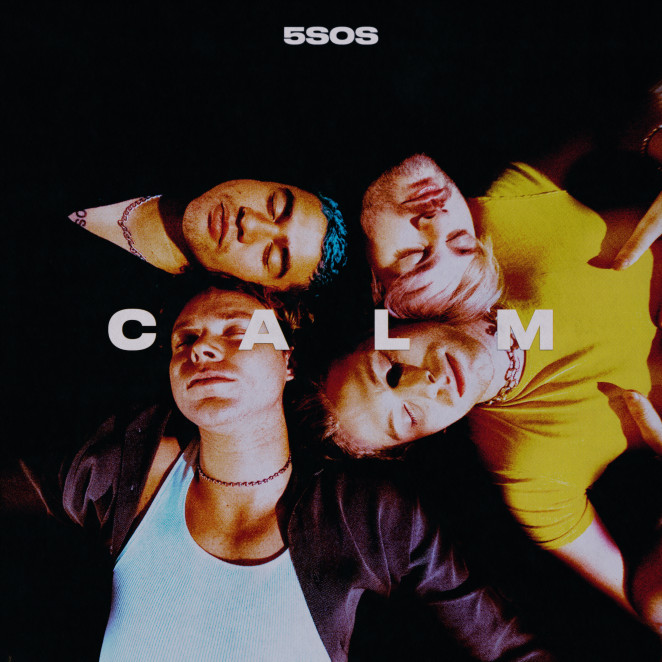 This album is a far cry from the strictly pop-punk styles they fully embraced in previous releases like their debut self-titled album and "Sounds Good Feels Good", but it feels like a very clear departure from the electro-pop in their previous release "Youngblood". It's edgy, honest, and sonically interesting. And given how devoted their fans are, I think their prowess speaks for itself in the pop music world. And even though their genre has shifted and grown alongside them, it's clear that their fans have as well. Without further ado, let's dive into this newest release by everyone's favorite Australian pop-rock band.
#1: Red Desert
The album opens with beautiful four-part vocal harmonies and a steady percussive humming emanating behind them. Then a very pleasing latin-inspired guitar layers behind the lead vocals. The band has truly embraced the desert vibes in this very Summer-y tune. "The demons we're running from are begging to stay" is a subtle nod to internal struggles in the midst of a relationship, and shows off the band's keen sense for the emotional nuances in their music. Similarly to the way Taylor Swift had written a whole album around the color red back in 2012, this song seems to exude a sense of heat and tactile sensory imagery of well, a red desert. It's sonically and emotionally rich. And those harmonies? That is how you open an album, my friends.
#2: No Shame
"I only light up when cameras are flashin' / Never enough and no satisfaction / Got no shame / I love the way you're screaming my name." These lyrics are rhythmically complex and catchy – it's a great hook for an even better song. And if you've seen the cheetah-print clad / funeral inspired music video, you know this is a wild song with some very weird but interesting ideas. Distorted guitar riffs hit in between the verses and choruses, as well as weaving behind the lead vocals. It's a party song with a certain level of depth to it that encourages the listener to take another look at something that may seem deceptively simple. As an ode to fame and the various struggles that likely come with all of that, the 5sos boys created something really pertinent and real with this tune, and I must say it is one of my favorites on the album.
#3: Old Me
Okay, this song is probably my favorite on the album. The boys offer a very reflective mood as they remember how far they've come and how they've grown up so well despite the trials and tribulations of finding fame so young. "Shout out to the old me / And everything he showed me / Glad you didn't listen when the world was trying to slow me / No one could control me" are just really insightful lyrics that acknowledge their struggles without victimizing themselves, past or future. Vibe-y guitar floats behind the striking vocals, with a trap beat behind the verses. Choruses open up into a brighter and more energetic tone as the lyrics ebb and flow around the instrumentation. The video for this song is especially emotional as younger versions of the boys are depicted growing up and learning the ropes as professional artists. Their older wisdoms and que sera mentality shines through, even in the midst of mistakes that they made at the time.
#4: Easier
This song is an earworm relatively ruined by frequent radio play, but regardless, I must admit the beauty of the vocal harmonies in the pre-choruses. I especially love the intricate guitar part in the back of the chorus, and the beautiful chord progression highlights tense emotions as experienced in a complicated relationship. Plus, the video features a certain Luke Hemmings in glittery eye shadow, 'nough said.
#5: Teeth
This song is alt-rock gold. It's spacey and cool, easily one of my favorites on the album. The tremolo-like guitar screech during the choruses blends beautifully with their harmonizing vocals. The whole thing feels sonically harsh and intense, like something straight out of a trippy sci-fi movie (as the concept video also shows). "Fight so dirty but you love so sweet / talk so pretty but your heart got teeth" is just a really slick and enjoyable line, and I think it perfectly encapsulates the nuanced emotions in a romantic relationship. In the concept video, each of the boys must fight their way out of their own personal challenges (not so different than the Divergent movies) and it's just insanely cool to see. Conceptually and sonically, this song is going to really pop off at their live shows I'm sure.
#6: Wildflower
This song features probably the largest emphasis on the four-part harmonies of the whole album, and the lyric video features some pretty cool stop-motion with wildflowers, of all things. The chorus is punchy and bright, although I will say that I don't love the deliberate censoring because I find it jarring and a bit too obviously NSFW. I understand the vast majority of their fans are teenage girls who would undoubtedly get a real kick out of this, but from a sonic and poetic perspective, I just don't vibe with it. There are much more tasteful ways to allude to particular things without explicitly suggesting them, I think. But it's still got a super danceable beat, and it'll definitely be good to hear live I'm sure!
#7: Best Years
Mark my viagra words, this will be the most popular choice for wedding songs for the next few years at least. It's quiet and sweet, and portrays a person telling their significant other how much they gave to them and hoped for a good future for them both. In some ways, it might be fair to say this could also be sort of a love letter to their fans, not totally unlike the way "Old Me" functions on the earlier half of this album. My favorite lyrics in this song are: "You did all these things for me when I was half a man for you / I wanna hold your hand while we're growing up / But I'll build a house out of the mess and all the broken pieces / I'll make up for all your tears". It's apologetic, honest, and that energetic build up toward the end is undeniably satisfying. This song is so sweet and shows maturity – a win for sure.
#8: Not in the Same Way
This song is melodically rich and I love the harmonies. Additionally, the lyrics remind me of a bridge that Taylor Swift could easily have written, both rhythmically as well as in the poetic sense: "Drink all night, never sleep / You say, "Go," I won't leave / I love you, you love me / But not in the same way/ Rip my heart out and leave / On the floor, watch me bleed / I love you, you love me / But not in the same way". The song also has a really nice build to it, alongside the intricate instrumental layers like the piano and guitar. I will say that I don't love a specific word choice in the pre-chorus, but that's a personal preference. I understand why it's there but I feel that placing in the pre-chorus can subtract from the hook a little more because it's just more noticeable than the rest of it in my opinion. Still a super fun and danceable song though!
#9: Lover of Mine
This song features some of the most poetic lyrics in the entire album, I'd say. That stands out because so much of this album is built on a literal relationship, whereas this one feels much more metaphorical in comparison: "Kaleidoscope mind gets in the way / Hope and I pray, darling, that you will stay / Butterfly lies, chase them away". Online comment remarked that Luke wrote this with his current girlfriend Sierra, so that's a really neat conceptual layer to this beautiful piece. I also noticed the way that after the first chorus, this song becomes immediately darker in tone. I don't believe it's a full key modulation, but it definitely moves to a more minor-key texture which is quite cool to hear. Like a really intense action / fantasy movie, this song twists and turns around a complicated relationship that ebbs and flows in complicated patterns. Although the pre-choruses still seem to feel brighter, amidst the bright layers of acoustic guitar flowing in and through it all. This song just has a lot going on all the time, but definitely worth a detailed listen.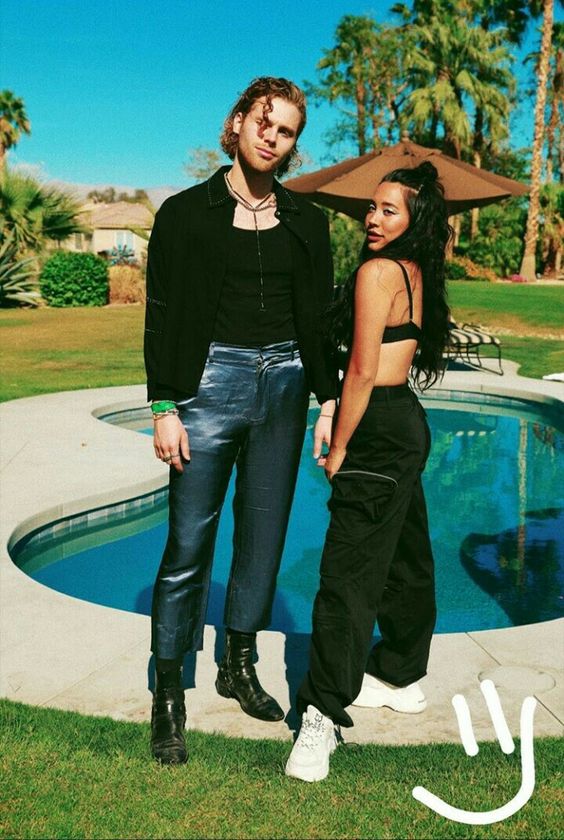 #10: Thin White Lies
A minimalistic chunky acoustic guitar riff starts off this piece, and mixed with Luke's velvety vocals, this song takes on a sense of foreboding that explodes with angry gang vocals at the top of the chorus. It's equal parts repentant and upset, with punchy electric guitar hits in the second verse creating a greater sense of immediacy and tension. The bridge breaks down more plainly, just to explode again into the final chorus. Listen to this with an open mind, and let the emotions wash over you – this song demands to be heard for all its creases and layers – because there is a lot of them: "Someone tell me who I was before / I don't really like me anymore".
#11: Lonely Heart
This song starts off with just vocals, quiet acoustic guitar, and then some kind of wind instrument. It's an odd choice for a pop rock song – but when the chorus kicks in with a dance beat and a louder feel overall, it's just weird enough to work. There's a really good buildup and it just feels really good to hear overall. Then the change back to the stripped-down verse works really well to balance everything back out. Dynamics like this are what make this song extra special. It fits seamlessly on this album, but the back and forth between loud and quiet, big and small, energetic and relaxed, brings a great deal of drama to the tune. I also enjoyed the addition of the chant-like vocals during the bridge – it was nearly tribal in its feeling but also so polished and properly poised the listener to lead into the final installment of this sonic journey.
#12: High
The double entendre of "I hope you think of me high / I hope you think of me highly" is really slick and clever. I also noticed the way this song maintains its dynamic throughout, not changing like the song directly before it. Luke's vocals are especially sweet here, and intermingled with the beautiful chord progression with a minor chord thrown in oddly brings a new and interesting sort of tension to the entire piece. Without that one chord, it would seem like a bright and positive song with sad, desperate lyrics. There are so many sonic and emotional layers to this particular song, especially as seen through "I know your friends don't like me / they want you for themselves" brings about an interesting point about social groupings and the struggles that those can often bring. As the song lingers for a moment and then eases off slowly, the listener feels a sense of growth and understanding after having experienced this sonic diary of sorts all about four guys who have steadily wormed their way into their hearts.
Overall, this whole album just has so much to offer its listeners. It has heart, reality, and shows how far this rag-tag group of former teenagers has really come over the course of their years in the limelight. This new album is definitely different than their pop punk beginnings, but there are still elements that have remained consistent. Here's to many more albums and shows for Calum, Ashton, Luke, and Michael.
Angelina Singer
angelina320@icloud.com
Instagram/Facebook: @angelinasingerauthor