Bill Belichick Opening statement…
First of all, just wanted to, on behalf of the team, express the thoughts and prayers that are with Harvey and Cassidy Langi for the accident that happened over the weekend. We pray that they're being looked over and that they're doing better. It sounds like they are, but that was a very unfortunate situation, and one I think shook everybody in the organization.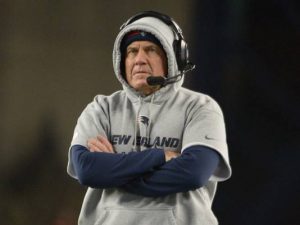 As far as the game goes, I'm proud of the way the team competed, getting behind 14-0 down here is not really where you want to be, but we fought back and were able to put together some plays to tie it up at halftime and then took the lead. We were able to string together a little bit more, and had trouble finishing the Jets as always. As I said, they're tough down here, a really competitive game. I think we left some opportunities and missed some opportunities for plays in all three phases of the game. Hopefully, we can get a few more of those going forward. Like I said, I'm proud of the way the team played some good situational football, were able to score at the end of the half and stop them at the end of the half and had some good coverage plays. I thought there were some good things there. The fumble, that was an interesting play, but when Malcolm (Butler) came off the field, the first thing he told me was that the ball was out. I thought they were reviewing whether he had crossed the goal line or not, but Malcolm obviously had a really good look at it and was sure it was out, it was the first thing he told me. That was the ruling ad that's why ball possession is so important down there. We had a close one in the New Orleans game that barely went our way, but it was the same kind of thing, a bang-bang play on the goal line. It was a good job of turning the ball over on that one, turning the ball over on the couple of interceptions that we had. It was good to see our defense make those plays. It was good to get the win down here. We've got to keep grinding. There are still a lot of things we can keep working on to do better.
On what it says about Butler's situational awareness to cause the fumble...
I don't know how much he had to do with talking to the officials. I don't really know about that. He did a great job of getting his hand in. He has a knack for that. He's done that before. He has good ball awareness and does a good job at slapping at the ball and has good strength and has gotten the ball out before. It was a tremendous play, great, great awareness. It saved us seven points.
On if he coaches forcing turnovers at the goal line…
Absolutely. Absolutely.
On the lift Dion Lewis gave them in the running game...
I thought Dion ran hard, ran well. Mike (Gillislee) ran hard. I thought both backs (did). This is about as good as we've run the ball against these guys, especially in regular sets, in a while. I thought Josh (McDaniels) called a great game. We ran outside, ran inside, ran back weakside, so we had some balance there, but I think our offensive line did a good job of getting the backs started, then the backs ran hard, made some yards on their own. James Develin and Rob Gronkowski are a big part of that too. That was encouraging.
On if he said anything to coaches or players down 14-0…
I think a lot of our wounds were self-inflicted. We gave up four third downs the first drive defensively and obviously we had a good chance to get off the field on all of those and didn't. And offensively, we just weren't able to string enough plays together and weren't able to produce much. It felt like we were kind of our biggest enemy the first third of the game and we've just got to do a better job of what we need to do. They have good players and are well-coached, too, I'm not saying that, but we just felt like the plays we were in position to make, we just didn't have them executed the way they needed to be executed and the Jets took advantage and we were down 14-0.
On Stephon Gilmore being out with a concussion…
We followed the rules to the letter on the injuries like we always do. We reported it exactly how it happened.
On Tom Brady becoming the winningest regular season quarterback of all time…
Great, that's what we're all here for is to win games. We've been very fortunate to have had Tom at the helm for a lot of those wins. That's what we're all in it for is to win.
On if Brady getting emotional helps him…
That's a question you should ask him.
On if Butler's interception was a turning point…
Yeah, I thought we, again, didn't really handle the end of the half the way we wanted to handle it. We got down there with a minute and a half and then threw three incomplete passes and missed a field goal and were fortunate to be able to get the ball back and able to capitalize on that opportunity. (Brandin) Cooks made a great catch for us down the field. It turned out alright, we scored before the half, but that's not really the way we were trying to handle the whole situation. But the defensive turnover obviously turned things around. It was kind of similar to the situation that the Jets had last week against Cleveland. It was a 0-0 game and then the Browns missed a field goal before the half and the Jets came back and got the ball out of bounds with six seconds, they threw it out of bounds with one, kicked a 57-yard field goal, go up 3-0 and win by three. We talk about that whole situation at the end of the half a lot. It came out alright, but it wasn't really quite the way we were trying to do it.