JOHN FARRELL WILL NOT RETURN AS RED SOX MANAGER IN 2018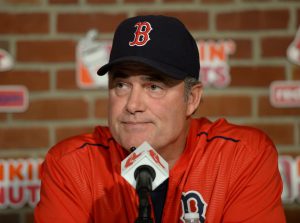 BOSTON, MA – The Boston Red Sox today announced that John Farrell will not return as the club's manager for the 2018 season. A search for a new manager will begin immediately.
Farrell, 55, completed his fifth season as Red Sox manager in 2017, leading the team to a 93-69 (.574) record and the club's ninth American League East division title. Boston finished the season with the third-best record in the American League, tied for fifth best in the majors.
During his Red Sox tenure (2013-17), Farrell's clubs went 432-378 (.533) and earned three division titles (2013, 2016, 2017). His 432 managerial wins and 810 games managed both rank sixth in club history, and he is the only manager ever to lead the Red Sox to consecutive division titles. His first season was highlighted by Boston's eighth World Series championship, as he was named American League Manager of the Year by The Sporting News.
Farrell began his major league managerial career with the Toronto Blue Jays in 2011, leading the club to a 154-170 record over two seasons. In his seven full seasons as a manager, his clubs have gone 586-548 (.517).
Farrell's first professional coaching stint began with the Red Sox in 2007 when he spent four seasons as Boston's pitching coach. Over that four-year span, he helped lead the Red Sox to three postseason appearances (2007-09), including the club's 2007 World Series title.