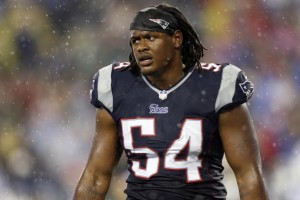 On this season's matchup there seemed to be a sort of cat-and-mouse game between you and Peyton Manning at the line of scrimmage. Is that type of competition fun?
DH: I don't know if it's more fun as much as it is tricky. You don't want to be in that kind of fight with Manning. He usually wins with that. Last year we had a pretty good plan as far as trying to mix it up and trying to confuse him a little bit and it kind of showed early on, and in the game it kind of had him frizzed a little bit so hopefully we can do a little bit of that this year too.
Q: How long has it taken you to become the quarterback of the defense and what kind of skills does that role require?
DH: Just being a sponge since being here. I had a lot of good linebackers in front of me. I had a lot of good teachers – Pepper Johnson, Pat Graham, Matty P [Matt Patricia], [Jerod] Mayo, [Brandon] Spikes. I had a lot of guys who taught me, and then you know coming from a similar system in college and just these guys around me. It's easy to kind of talk to the players and my teammates. It's just easier now. It's just more of a defensive thing. It's not just one person.
Q: How frustrating was it to be knocked out of the first matchup this season with Denver and then see them be able to have success in the running game?
DH: Very frustrating but again, this is a different game. This is definitely a different team with a different mindset. We've got a good game plan. We've just got to go out and execute it. I don't really like to live off of old games but there is a bad taste in our mouth and we want to go out and change that.
Q: Do you take their previous success as a personal challenge now that you are back in the lineup?
DH: I do, but at the same time I'm looking at it as a whole different ball game; it is. We're playing something totally different. The situations, the standings are different. We're just ready to go out there and do what we've got to do.
Q: How much did the time off during the season help you physically?
DH: It helped a lot. Just a lot of treatment with [head athletic trainer] Jim Whalen, a lot of massages, just doing everything that I needed to do to get back, working with H [head strength and conditioning coach Harold Nash] in the weight room to get everything back so I'm feeling a lot better.
Q: Do you ever think how fortunate you have been to have played in an AFC Championship Game in every season of your career so far? Read
DH: Absolutely, blessed from the jump and just talking to Steven Jackson the other day – this guy's been a great player all of his career and he's just kind of always been on the short end of the stick. Just talking to him and him being as happy and as proud as he is to be here, for all he's worked for to be here, a lot of guys kind of take it for granted. It was kind of a slap in the face that we're all blessed to be here and we do things different around here and that's why we're here.